by tony reverditto –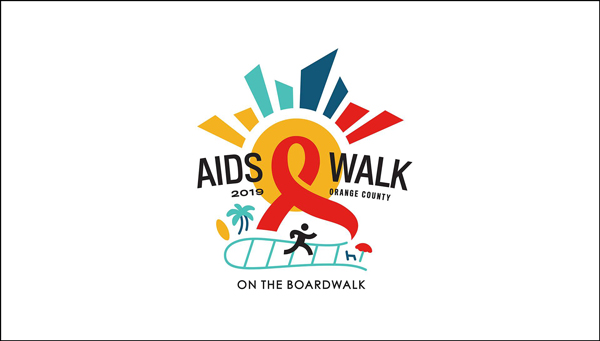 Orange County is once again about to lace up its collective walking shoes for the 33rd Annual AIDS Walk O.C. on Saturday, June 1 hosted by Radiant Health Centers. For 2019, however, they're improving the shine on all those walkers' feet, by taking the stroll along Huntington Beach's Boardwalk.
One of the oldest walks in the country, AIDS Walk O.C. has raised more than $3 million to provide critically needed care for those infected and affected by HIV and AIDS. So, to fill in the background on the upcoming fundraiser and Radiant Health Center itself, The Rage Monthly caught up with Chief Development Officer Susan Caumiant, as well as AIDS Walk cochair and board member, Dr. Duane Vajgrt, a supporter, volunteer and major donor since its inception 34 years ago under the name AIDS Services Foundation of Orange County.
"Today, our goal is to put an end to HIV in Orange County, hence the decision to change our name to Radiant Health Centers almost two years ago," shared Susan Caumiant. "We knew that to fully address the HIV epidemic we needed to get ahead of the virus by meeting the health needs of the entire LGBTQ+ community. To contribute to achieving our goal, it is imperative we reach the broader community, educate them on medical advances and proper mental and physical care to stay healthy."
Dr. Duane Vajgrt shared some of the hard, cold facts about why the event is still so important, "With an average of five to six new HIV infections each week in Orange County, it underscores that HIV/AIDS is still a problem that needs attention and should not be forgotten," he offered.
"People need to come out and walk to demonstrate that HIV/AIDS is still an issue. We're also very eager to get the word out about new tools like PrEP and PEP (medications that make HIV non-transmissible). Coupled with increased testing, we can truly make the goal of ending the AIDS epidemic in the next 10 years a reality in Orange County."
"People need to come out and walk to demonstrate that HIV/AIDS is still an issue. We're also very eager to get the word out about new tools like PrEP and PEP."
"There is still work to be done as we address issues related to HIV/AIDS," Caumiant echoed. "Although we have seen medical advances, there still is no cure and it remains a diagnosis that needs to be carefully managed. The clients we see at Radiant Health Centers are un or under-insured and are not in a position to afford the comprehensive care and medication needed to manage their health care needs, we provide the care needed for them to live a dignified and productive life. Proceeds from AIDS Walk allow us to continue our important work to provide direct care for more than 5,700 individuals infected or affected by HIV and an additional 5,200 through education and outreach efforts."
For those who can't make it to the event themselves, Dr. Vajgrt offered other ways to support: "The most obvious answer is that they can donate to the AIDS Walk, support someone who is walking or encourage family members, coworkers, and neighbors to get involved as a walker or volunteer. There are also multiple volunteer opportunities at the agency itself, in our food pantry or at our other events throughout the year," he said.
"Many companies match your gift with a corporate matching gift. Check with your HR executive, you may be surprised on how much you can leverage your gift."
These are promising times in the fight against HIV/AIDS: though there isn't a true vaccine yet, PrEP and PEP in essence offer functional solutions—game changers to be sure—but only in conjunction with a renewed effort to increase testing. People need to know their HIV status and get treatment so they cannot transmit the disease. Do your part by coming out to the AIDS Walk O.C. and help make Radiant Health Centers' goal of ending the Orange County AIDS epidemic in ten years a reality.
AIDS WALK Orange County takes place on Saturday, June 1 at the Huntington Beach Boardwalk. Look for a family-friendly 5K walk, multiple vendor booths, a Fun Zone for kids and adults with games, face painting, balloon art, as well as music by Men Alive: Orange County Gay Men's Chorus, Huntington Beach School of Rock and Ballet Folklorico Pasión Valparaiso. For more information or to register, go to radianthealthcenters.org/awoc.  
Category: Fitness, Health, HEALTH & FITNESS, Orange County