by lisa lipsey –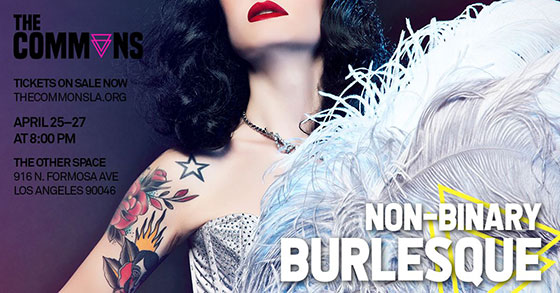 Every once in a while, we learn about something new, something interesting that sparks our imagination and draws us back into the arts. The new can be risky and the new can be necessary. Perhaps now is the right time for a new theatre company that showcases our community, and our varied voices. A theatre that is experimental and inclusive.
Give a warm welcome to The Commons Collective as they join the Los Angeles Theatre scene.
Director Julie Ouellette is leading off the first season of shows from the new theatre company. Ouellette, a freelance director, fight scene choreographer, and actress, has been working to bring together an inaugural season of fun and creatively flexible performance formats. The Commons Collective is staging a story slam, a cabaret and a burlesque, each with their own twist: the story slam gives a voice to lesbians, the queer cabaret will showcase all sides of our queer alphabet, and their burlesque is non-binary.
The Commons Collective team is dedicated to "…producing passionate, artist-driven work that pushes the boundaries of modern storytelling to new heights. We encourage our artists to be fierce and fearless in the pursuit of their own unique passion, voice, and vision. We prefer to be talking about the ideas that a poetry piece or play brought up, rather than its plot."
"The overall goal of the festival was to create work that was surprising to audiences. When I was first meeting with our director for Queer Cabaret (Jer Adrianne Lelliott, founding artistic director of Coeurage Theatre Company) one of the first things she said to me was "I can't believe you're actually hiring a director for a variety show."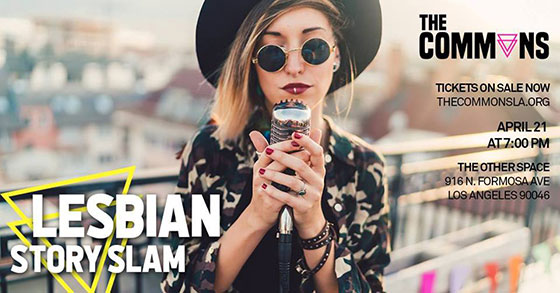 Often, variety shows are pulled together from whoever's talented friends are available and artists are given a certain number of minutes on stage to do whatever they do. I love that format and think it's very fun, but we were interested in putting together something bigger. And that mission is the same for all of the shows: How can we take a format and a structure that people are used to seeing a certain way and really elevate it to the next level of storytelling? Is it possible for us to produce a cabaret that genuinely moves people on a journey?" asks Ouellette.
"Of course, I'm excited by the artistic vision behind each show. But the true star of the festival for me is the talent! We have 32 performers between the three shows and all of them are absolutely incredible. We were so lucky to have a flooding of amazing LGBTQ talent come in for auditions and I am beside myself with the fact that we get to give this group of performers a platform to shine and to be heard," boasted Ouellette.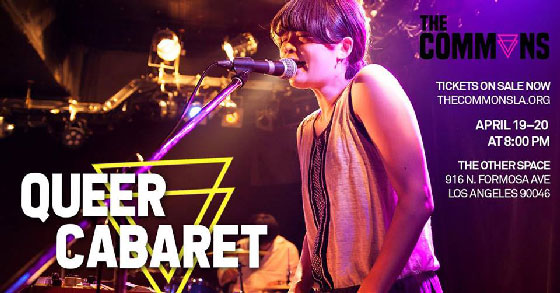 "The Commons came out of a need for community and authenticity in L.A.'s independent theatre scene," she continued. "I'm interested in what it means to have an authentic commitment to serving our community and to radical inclusivity. As a working director and actor, I was exhausted from experiences at independent theatres that were constantly being handled in the best interest of the company instead of the community. And exhausted from hearing other people with the same stories! We are an artist-centric organization that, above everything else, is dedicated to valuing the people who work for us."
On starting a new theatre company in this day and age, Ouellette shared the harsh reality and how we can help, "Ticket sales realistically only make up for 30 percent of production expenses for any given show. That's true of all theatres, not just ours. Producing in Los Angeles is really expensive. We have a commitment to accessible ticket prices for all of our shows—it's part of serving our community. So, support local theatres! We can't make art without the support of our communities, so whether it's our company or someone else's, just go donate."
The Commons Collective Queer Cabaret takes place Friday and Saturday, April 19 and 20. Lesbian Story Slam follows on Sunday, April 21 and Non-Binary Burlesque happens Thursday, April 25 through Saturday, April 27. All performances take place at The Other Space, located at 916 North Formosa Avenue in Los Angeles. For tickets and more information, visit thecommonsla.org
Category: General, Long Beach, Los Angeles, Theatre