by lisa lipsey –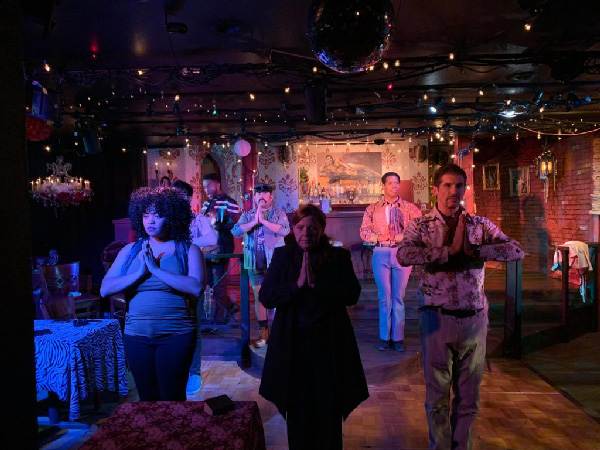 In the early 1970s, the French Quarter of New Orleans was home to The Upstairs Lounge, a known safe haven for the gay community.
Similar to a speakeasy, you rang a doorbell announced your name and the bartender would let you come upstairs. It was a place to sing, drink, dance and catch a drag show, and a home to an open, affirming church on Sundays. A place of laughter and community, it was a spot to hang with friends, find love, and skip the orange juice in protest of Anita Bryant. They didn't necessarily know it, but they were living on the cusp of the gay revolution.
The Upstairs Lounge, vaguely remembered during LGBTQ History Month, is immortalized as the site of a horrific arson attack that ultimately killed 32 people. Not covered by media and largely swept under the rug, families were not even notified of the deaths, and many of the remains were buried in a mass grave. Survivors and mourners, faced with obstruction and gut-churning statements made by anti-gay groups, eventually managed to find a church that would hold a funeral service honoring all of the fire's victims.
Further mishandled by law enforcement, the arsonist was never brought to justice. Words fail to describe the heartbreaking devastation in this vibrant New Orleans gay community where without question, the tragedy illustrated the ugliest side of humanity.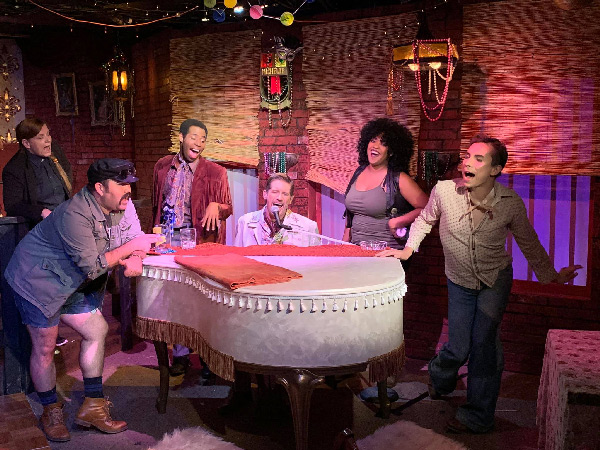 What do we do with a story like this one, nearly 46 years later? It seems the best way to honor their memories is to tell their stories, learn their names, celebrate their lives and give a voice to the voiceless. That's at the heart of Max Vernon's new (2017) musical The View Upstairs, filled with beautiful music and joy, beautiful memories and even some current events. It's a love song to the '70s gay community and the people who frequented The Upstairs Lounge.
Vernon, a three-time Drama Desk-nominee, Out100 honoree, and recipient of the Lucille Lortel Award for Best Musical, was brilliant in his plot choice. Moving the show seamlessly across time, the forgotten Upstairs Lounge community comes to life when a young fashion designer buys the abandoned space in 2017. The purchase of which sets him off on an exhilarating journey of seduction and self-exploration that Entertainment Weekly calls "a moving homage to LGBTQ culture, past and present."
When Desert Rose Playhouse Artistic Director Robbie Wayne came across this play, he fell in love with the music. "I like to do productions that have a purpose. There is room for both: the purely campy, funny shows and the shows that will give you more when you leave," he said. "The best way I can describe the show is it's Kinky Boots meets RENT and a rock opera. It is a joy to hear this music, including songs like 'Some Kind of Paradise,' which is all about falling in love. You will walk away feeling touched by this show."
"Max Vernon is so talented in his songwriting and to show off his score, I have found the best ten vocalists I could get," offered Wayne. "We are just beginning to build this show on the stage. It is exciting to see all the large and vibrant, unique and relatable characters. If you want to get to know the show, there is an Off-Broadway cast recording of all the music. I'm telling you, I love one song after the next and when the album ends, I could just start it all over again."
"It is not a depressing show," Wayne wants audiences to know. "You might assume it is because of where the material came from, but it is a joyous show. It's a bit reflective, a look at what is better or worse now in our march toward equality. It will speak to you if you allow yourself to be taken back in time. The costuming is also fun, thanks to the Atomic Iconic Boutique, who is lending us retro vintage clothing out of their store."
Max Vernon's The View Upstairs runs Friday, March 8 through Sunday, March 31 at Desert Rose Playhouse. For tickets and more information call 760.202.3000, or go to http://desertroseplayhouse.org.
Category: General, INTERVIEWS, Palm Springs, Theatre