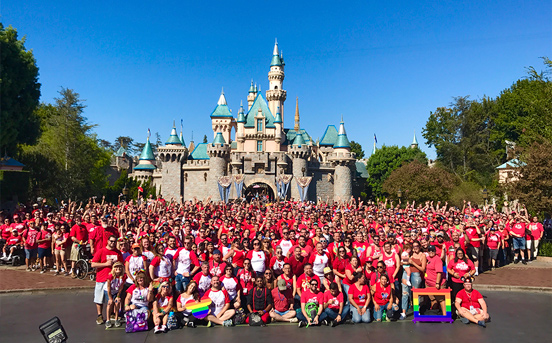 It's time once again to don those gay mouse ears and get in the mood for another star-studded lineup during Gay Days Anaheim 2018, taking place Friday, October 5 through Sunday, October 7!
"We'll have fun, we'll meet new faces. We'll do things and we'll go places. All around the world we're marching. Who's the leader of the club, that's made for you and me? M-I-C-K-E-Y M-O-U-S-E!" So come to the"Happiest Place on Earth" inside Disneyland Resort and help make it the"Gayest Place on Earth."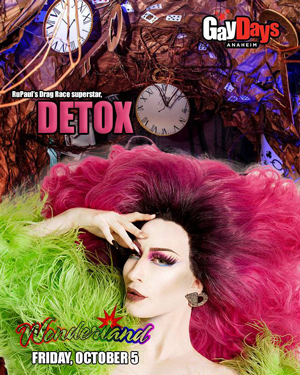 Check-in begins on Friday at the Trillium Room, inside Disney's Grand Californian Hotel and ends Sunday night with Gay at the Grand at the Hearthstone Lounge in Disney's Grand Californian Hotel.
The weekend is filled with boys, girls, men, women and everything in between—and of course Disney's very own cadre of characters—including Mickey, Minnie, Cinderella and Prince Charming…Gal better watch out for that hand- some fella! So break out your red shirts, it's Gay Days!
A few of the major highlights include: Wonderland at Rumba Room Live, Friday evening featuring DJ Ray Rhodes, with RuPaul's Drag Race star Detox and host Kelly Bailey.
On Saturday catch the Mark Twain Riverboat for the gay, Big Red Boat Ride, then look for the Hungry Bear Lunch inside Critter Country, Confessions of a Mormon Boy at The Grand Californian, and finish the day off by dancing at Kingdom, with DJ Roland Belmares, featuring special performances by Garrett Clayton and RuPaul's Drag Race favorites Mayhem Miller, Delta Work and Mariah Balenciaga.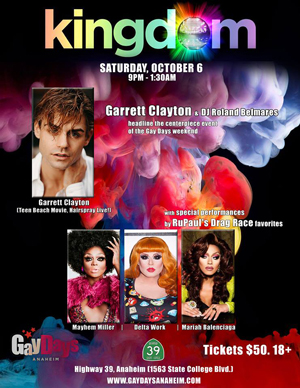 Enjoy the other side of the park Sunday, at Gay Day at Disney's California Adventure, or get soakin' wet at the Anaheim Majestic Garden Hotel during the Plunge Pool Party with DJ Zach Moos. Exhausted yet? This is just a tiny, sampling of the gay events waiting for you at Disneyland!
How is one to find the time to meet Mickey and Minnie, ride the rides and hit upon a prince or princess to sweep us off our feet? Well, like they say, "Where there's a will, there's a way!"
For tickets and more event information go to: gaydaysanaheim.com.
.
Category: Orange County