by bill biss – 
There is a scene near the end of the classic romantic-comedy film Working Girl. The head of Trask Industries compliments Melanie Griffith's character "Tess" by saying, "You've got a real fire in your belly." She responds, "I think it's just nervous knots." Hence, when the opportunity came forth to interview one of my very favorite film actresses… well, you'll see. I had a case of the "nervous knots."
Melanie Griffith is returning to the stage once more. If you had an opportunity to see her on Broadway in Chicago, there was nothing but love and delight in her star turn as Roxie Hart. Now she has set that "real fire in her belly" towards Laguna Playhouse's production of The Graduate where she stars as Mrs. Robinson. The show runs from Wednesday, February 21 through Sunday, March 18.
So, without further ado, presenting the first look at the star of screen and stage, Ms. Melanie Griffith. She is ready to captivate and entertain as Mrs. Robinson in The Graduate.
Hi! Thank you so much for taking the time to talk with me.
My pleasure. Thank you for taking the time to talk to me.
You bet. I'm feeling fine but I'm as nervous as "Tess" going in front of the board at Trask Industries. [Melanie's role in 1988's Working Girl].
Ah, come on. (Laughter) That's a good line. I bet you use that with everybody.
No. Just you. What drew you in to returning to the stage for The Graduate?
Well… many things. For one, I really love working. That's the first thing. My son had been in a couple of plays down there at Laguna Playhouse. So, I knew Annie Wareham and she works at the theatre. I love the theatre and I loved what Jesse Johnson, my son, did down there. It's just the way that they do things and it's a beautiful place. It's a lovely spot in the world to do a play, that's for sure. And so yeah, that's what drew me to that.
Also, I am definitely of the age to play Mrs. Robinson and honestly, being 60 in Hollywood, it's not like they're banging on your door to give you jobs, if you know what I mean.
Hmm, yeah but I always think of you as a movie star. I personally like to think of you as a screen goddess.
Oh, wow! Thank you. Nobody's ever said that to me before. I like that! (Laughter)
How do you think the theatre show of The Graduate transfers on stage from the 1967 film directed by Mike Nichols?
Honestly after reading the play, I like it so much better. Not to diss Mike in any way because he's my favorite director of all time. The play is more concise and it's just really interesting, really funny and emotional. It's sort of more concise; you know what I mean?
Yes. In regard to your characterization of Mrs. Robinson, as far as fashion… how has it been so far to determine the look of her in costumes and hair? I don't think you would decide on frosted tips like Anne Bancroft or black hair like "Lucille" in your film Crazy in Alabama.
No.
But I think you might do a blonde up-do like your mom [Tippi Hedren]?
Yeah, I'm kind of thinking that too. I'm actually meeting with everybody tomorrow [Melanie's interview was conducted on January 17] to go over wardrobe and the look. I mean they wore strange hairdos back then, you know; a lot of beehives.
"Also, I am definitely of the age to play Mrs. Robinson and honestly, being 60 in Hollywood, it's not like they're banging on your door to give you jobs, if you know what I mean."
I'm imagining there will be no leopard coat that Mrs. Robinson wore in the film, because of your mom's organization Shambala?
Well, you never know. I mean there are fake fur coats. Yeah, there is that.
Of course. No doubt. How has it been so far working with the director of The Graduate, Michael Mathews on this?
I love him. I think he's wonderful and so talented. He just did 12 Angry Men down there. He did a production of that and it was beautifully done and beautifully directed. I'm really impressed with him.
Excellent. Are you looking forward to working with the actor Nick Tag who plays Benjamin?
Yes! I am looking forward to him and to the actress Martha Magruder who plays Elaine Robinson. Yeah, I read with them a while ago and they are both really, really good actors. Yes, we did some scenes.
I'd be remiss if I didn't acknowledge your wonderful film career. There are so many films that you have starred in with so many other phenomenal actors. What lessons in creating a role have stuck in your mind from performing with these men and women?
I don't know so much if it was the actors who taught me how to create a role. It was more my teacher Stella Adler and Sandra Seacat, who was another teacher that I had…And, another one named Harry Mastrogeorge. They all taught me beautiful things about creating a character. Then, of course all the actors and actresses who I've gotten to work with, you always observe and take in what they do. Not copy them but learn from them. But I've had a long, long career being able to learn from my fellow actors.
You have a definite persona. There's always a bit of Melanie Griffith in every role and that's what makes you a star.
I guess so. I thank you. That's a compliment to me.
I'm hoping to catch a performance during the run of the show.
Okay. Well, I hope you come and see it. Thank you so much!
---
Melanie Griffith: A Partial Look at Her Memorable Movies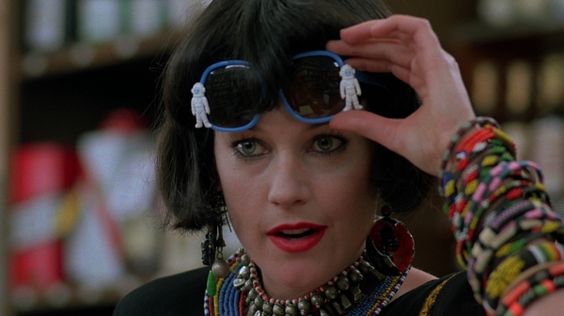 1984 – "Holly Body" in Body Double. Directed by Brian DePalma. Griffith was nominated for three different awards and won one from the National Society of Film Critics for Best Supporting Actress.
1986 – "Lulu" in Something Wild. Nomination for Best Actress from The Golden Globes.
1988 – "Tess McGill" in Working Girl. Directed by Mike Nichols. Griffith wins a Golden Globe award for Best Actress. (Working Girl marks its 30th anniversary this year.)
1993 – "Billie Dawn" in Born Yesterday.  Co-starring John Goodman and Don Johnson.
1994 – "Eve" in Milk Money. A surprisingly sweet romantic comedy opposite Ed Harris.
1995– "Toby" in Nobody's Fool. Griffith starred opposite the iconic Paul Newman.
1999 – "Lucille" in Crazy in Alabama. Directed by Antonio Banderas. Set in the 1960's, civil rights and human rights collide in a captivating way.
2000 – "Honey Whitlock" in Cecil B. Demented. Directed by John Waters. When the going gets tough for a renegade set of film students… you need a movie star!
The Graduate runs Wednesday, February 21 through Sunday, March 18 at Laguna Playhouse. For tickets and more information call 949.497.2787 or go to: lagunaplayhouse.com
.
Category: General, Orange County, Theatre