by tony reverditto –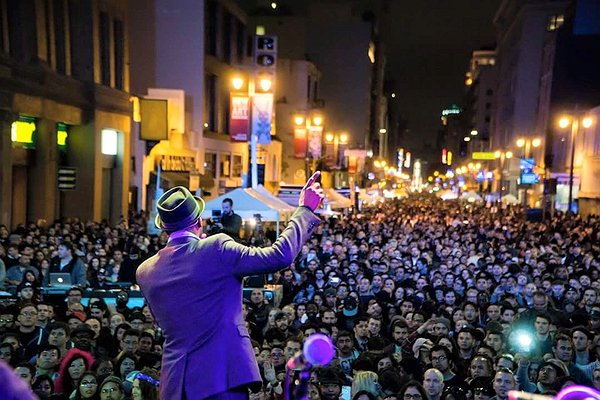 Night on Broadway is a free arts and music festival in Downtown Los Angeles (DTLA) on Saturday, January 27, produced in celebration of Councilmember José Huizar's "Bringing Back Broadway" economic development initiative. It's a free to the public event, designed to awaken Angelinos to the beautiful historic theatres and Broadway corridor in film entertainment's birthplace.
This year's event will feature programming across six of the area's historic theatres, on ten outdoor stages, over ten city blocks, revolving around creative talent of all kinds, from emerging musical acts to established national stars, artists to acrobats, fashion designers, and of course, food trucks and eats of all kinds, with alcohol permitted for purchase at select venues.
In conjunction with all that fun, the second annual DTLA Proud Block Party on Broadway will also be happening in Pershing Square in front of Precinct at 4th and Broadway. It's a free night of stage performances that includes Exposure Drag, Sasha Colby, The Hound, Ti To Soto, Rasputin's Marionettes, and the fabulous Gia Gunn, along with other music and art highlighting the diverse LGBTQ+ community of DTLA!
It's a night of drag, dancing, and most importantly, a community gathering in a fun and safe space amongst the more than 75,000 people who attend Night on Broadway!
Legendary '80s band, The B-52s, will headline the main Broadway stage along with War, La Santa Cecilia and Raul Pacheco (of Ozomatli) and the Immaculate Conception.
Other performers and acts featured include the Lucent Dossier Experience, a cirque-style performance that combines live music, technologically advanced visuals, dancers, aerial artists and stunning fire shows.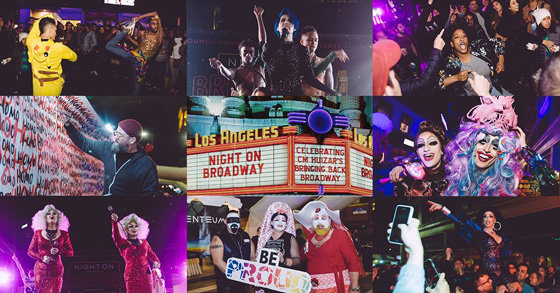 Host of the event, José Huizar was born in Zacatecas, Mexico and is the first Mexican immigrant elected to the municipal council in the history of Los Angeles and to became the first Latino to serve on the Princeton Board of Regents in 2004. From there, he was elected as councilman to District 14 of City Hall of the City of Los Angeles in 2005, re-elected in 2011 and in what will be his last term, again in 2015.
Through his years of public service, Councilman Huizar has proven to be an ardent supporter of educational reform, public safety, environmental protection and sustainable economic development. He has helped create thousands of new jobs, promoted historic preservation and created a framework to bring the much-loved streetcar back to the streets of downtown Los Angeles.
Huizar took a little time out of his busy schedule to answer some questions for The Rage Monthly about his beloved city.
You've enjoyed many accomplishments during your time on the Los Angeles City Council. Of which are you the most proud?
Thank you! Beyond the day-to-day work my staff and I do to serve our constituents, I'm really proud of the work we've done to promote our "complete streets" policy throughout the district and the city to encourage and support increased safety and pedestrian activity, public transit and bike use. We look at our main thoroughfares, including Broadway, as destination points and not just as means to get from point a to point b.
Our effort to build more parks and repair existing ones citywide by overhauling for the first time in 31 years a fee system that developers pay to support green space. Our park-fund reform will more than double by tens of millions of dollars annually the amount of money available to increase the city's much-needed greenspace. We've also helped shape environmental policy by committing the city to get off of coal by 2025, increase solar power and ban plastic bags.
But, if I had to choose one accomplishment, I would have to say the work we've done, to at long last address homelessness. For decades, the city had an out-of-sight, out-of-mind view of homelessness. It was regulated to a few areas of the city: Skid Row, Hollywood and Venice, and city policy was really set by reacting to the latest lawsuit…that was a failed policy.
In my time on City Council, I'm very proud to say that I helped create the city's first full-time committee to address homelessness, which led to our comprehensive, Homelessness Strategic Plan. My office helped create a homelessness service outreach program in Skid Row (C-3) that is today the model program for the entire county and I coauthored Measure HHH, a $1.2 billion bond that voters approved in 2016, which will build 10,000 units of supportive housing over 10 years.
There is clearly so much more to do to address homelessness, particularly in assisting people with mental health issues who make up a third of all individuals experiencing homelessness. But, there is no doubt we've done more in the last few years than at any time in the city's modern history.
What do you consider the most pressing issues facing Los Angeles right now? And, are there any solutions in the works?
The need for affordable housing. Our Strategic Homelessness Plan said we should first address homelessness through housing and a funding source, and we came up with Measure HHH. The second thing the report recommended was creating an affordable housing funding source, with the city's federal and state affordable housing funding decreasing dramatically in recent years.
The city council recently approved a Linkage Fee Affordable Housing ordinance that we worked on extensively in my planning committee. The Linkage Fee will generate about $100 million annually for the city through developer fees. We need to build new affordable units and protect the affordable housing we currently have, by extending agreements we have with property owners to keep units affordable. We also need to increase our affordable housing stock to keep Angelenos from falling into homelessness in the first place.
What are some of your other visions and goals for the city?
Our city's greatest strength is our diversity, and we need to protect it. The City of Los Angeles is home to people from all walks of life, from different ethnicities, cultures and religious backgrounds, both straight and LGBTQ. It's our ability to share with one another our experiences and our common humanity that defines us as Angelenos. Affordable housing is a critical issue and we need to address it before too many of us have to move away and we lose what makes us unique as Angelenos…each other.
Why should people come out to the Night On Broadway event?
Night on Broadway has been described as a love letter to Los Angeles and that is exactly what it is. This is the one, free festival in the city where you can experience incredible performances on the street or in six of Broadway's 12 historic theatres from talent that are as varied as the people who make up our great city.
Through 10 years of our Bringing Back Broadway initiative, which Night On Broadway celebrates, we have focused on revitalizing what used to be the city's entertainment and retail capital. In doing so we have honored Broadway's past while making sure its future is just as bright. That will be on display for all to see at Night on Broadway. Beyond being a really cool, fun, eclectic event, Night on Broadway is a celebration of Los Angeles and one that all Angelenos should experience.
Night on Broadway is a free event taking place on Saturday, January 27 from 3 p.m. to 12 a.m. Broadway will be closed to from First Street to Olympic Boulevard. For more information, go to: nightonbroadway.la
For more about on the DTLA Proud Block Party the same night, go to: facebook.com/DTLAProudOrg
.
Category: Long Beach, Los Angeles