Who could forget those vivid, magical lyrics that Oliver and his little chums sang as they imagined a life filled with anything their heart's desired, as far as all things edible: "Hot sausage and mustard, cold jelly and custard, peas, pudding and saveloys…Is this making you as hungry as it is me?" (And, if you're wondering…a saveloy is a type of sausage!)
Luckily, none of us are starving orphans making our way on the mean streets of 19th Century London and having to work out any Oliver Twistian angst, pilfering food where and how we can. Gloriously, here in 21st Century San Diego, we have something called Restaurant Week, which allows us to wind our way through the not-so-mean-streets of the city and beyond, indulging our taste buds and eating our way through some of the city's finest dining rooms!
This is the time and place at which "Please, Sir, I'd like some more…" won't earn you a rap on the head or being tossed into a coffin, in fact it will most definitely be answered (unlike dear Oliver), with a second or third helping of whatever might be in front of you.
Created to unite the curious, the hungry and the talented, the 14th Annual San Diego Restaurant Week returns on Sunday, January 21 through Sunday, January 28, to take your taste buds on an edible extravaganza like you (or Oliver) have ever seen before.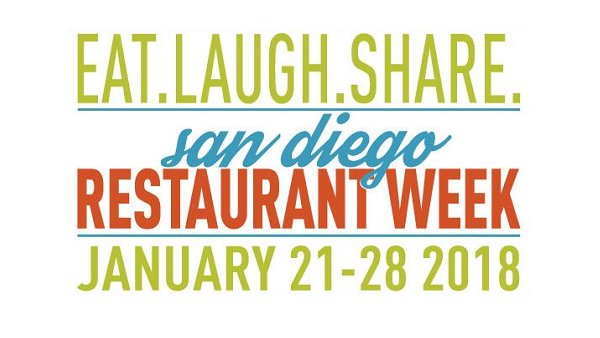 Varying by restaurant and your tummy's tendencies, the many tantalizing options start with three-course prix-fixe dinner menus for $20, $30, $40 or $50 per person and/or two-course prix-fixe lunch menus for $10, $15 or $20 per person.
Whether you're looking to try a new restaurant, a different type of taste, or you're just craving some good ole'grub, this foodie-favorite week is the perfect time to take a culinary tour through the diverse and thriving food culture, featured at over 180 participating restaurants from South Bay to East County and to the borders of Oceanside and Fallbrook to the north.
Treat yourself to an experience beyond any heaping dinner plate imaginings that Oliver and his band of hungry boys might even think of. So "consider yourself" lucky, get out there and eat, laugh, and share some "food, glorious food" with your favorite pack of street urchins…Though I'd discourage any "Pick a Pocket or Two-ing" or any kind of thieving along the way!
And, "Who will buy this wonderful feeling…?" No one, because tickets aren't necessary during this delectable week of discounted dining, but reservations are highly recommended!
For more information, a list of participating restaurants, or to make your reservations in advance, visit sandiegorestaurantweek.com
.
Category: Food & Drink, San Diego