by tony reverditto –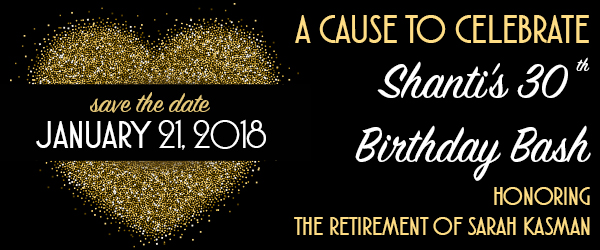 The word Shanti, meaning "inner peace" in Sanskrit, was first used in 1974 by San Francisco's Dr. Charles Garfield, to describe The Shanti Project's model of volunteerism, designed to enhance quality of life by providing emotional support and assistance to people living with life-threatening illnesses.
It's a mantle and ideology that Shanti O.C. took up in the '80s as well and in 2018, they will celebrate 30 years of providing innovative and adaptive services to the HIV/AIDS community. "A Cause to Celebrate" honors that legacy, along with celebrating Shanti O.C.'s former executive director, Sarah Kasman, who after leading the organization for the last 24 years recently retired.
So, come celebrate Kasman and Shanti's legacy as you do a little to help them raise funds for their ongoing mission. Enjoy appetizers, libations, music by Frank & Co., After 5 and Orange County's MenAlive Chorus. This fundraising event will also recognize other community leaders who have played pivotal roles in Shanti's history.
This month the baton will be passed to Kasman's worthy successor, Dr. Lindsay Fitzpatrick, a licensed clinical psychologist and LGBTQ advocate. For the last two years, Fitzpatrick has transformed the organization by improving the mental health service programs, delivery and service model and has successfully engaged in medical reimbursement programs.
She encourages anyone who could use a listening ear to reach out to Shanti O.C. "I know it is hard to make that first call, but you will be glad you did. Mental health services are about getting to know yourself, seeking support, and finding answers. It does not mean you are 'crazy' to get help."
The Rage Monthly asked Fitzpatrick about how it feels to take on such a challenging, yet rewarding position, "It feels incredible to be taking over the helm of this amazing agency. I began my work with Shanti in 2010 as a psychology practicum student and I knew back then that Shanti felt like home. I was honored to return in 2015 as the director of mental health, and have led the mental health department into huge areas of growth since then. Although a new challenge, it felt like the natural transition to succeed Sarah in her retirement."
When asked how she would best describe Sarah Kasman's legacy, Fitzpatrick offered this, "Sarah, who began with Shanti in 1991, has led a life of dedicated compassionate service. She has led Shanti through lean times, witnessed the devastation of the disease, the change in care delivery as survivorship increased and has fearlessly transformed the organization to meet each hurdle."
As Shanti O.C. moves forward, we asked Fitzpatrick what ideas and projects would be a part of her vision. "We will continue to provide dedicated care through all levels of case management and mental health services for anyone who is HIV positive. Whether newly diagnosed or seeking access to new services, Shanti's case management is able to help guide anyone in need of care."
She continued, "In addition, our mental health department is now open to anyone over the age of 18 seeking mental health services (not just HIV+). We accept CalOptima, most Medicare plans, and can work with clients on a sliding scale for payment. In addition, we look forward to continuing to work closely with partnering agencies to provide quality care in Orange County."
Fitzpatrick gets excited when she speaks of Shanti's 30th anniversary celebration, "It is going to be a great event. We will hear clients and community members alike speak about the work of Shanti over the last 30 years, and of course there will be a tribute to Sarah. There will be food, drinks, entertainment and games and it is bound to be a fun, yet emotional, evening for many who have known us."
Shanti O.C. is located at 23461 South Pointe Drive, Suite #100 in Laguna Hills. For more information about the organization and its services, call 949.452.0888 or go to shantioc.org.
Shanti's 30th Birthday Bash takes place Sunday, January 21 at Seven-Degrees, 891 Laguna Canyon Road in Laguna Beach, For tickets and more information, call 949.452.0888 or go to: shantioc.org/celebration.
.
Category: Orange County