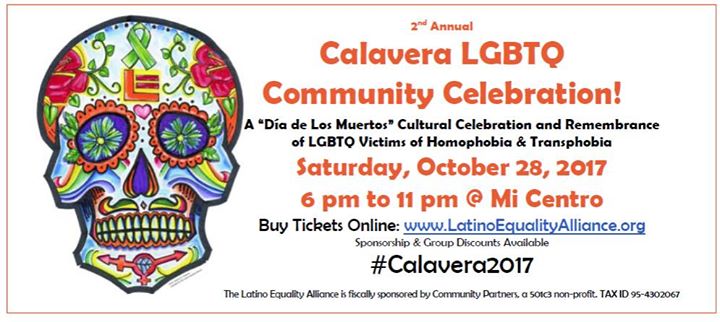 Come celebrate all things LatinX and LGBTQ at the 2nd Annual Calavera LGBTQ Community Celebration on Saturday, October 28 at Mi Centro in Boyle Heights. Designed to honor the cultural Day of the Dead and to remember family and community members who have passed: Particularly those lost to gun violence, such as those at the Pulse Night Club Massacre on June 12, 2016 in Orlando, as well as those Transgender community members who have died as a result of homophobia and transphobia. The celebration takes place at Mi Centro LGBTQ Community Center, 553 South Clarence Street and all LGBTQ and ally members are welcome far an evening filled with art, music, food, drinks and dancing.
For more information, tickets and sponsorship opportunities, please visit latinoequalityalliance.nationbuilder.com/calavera.
---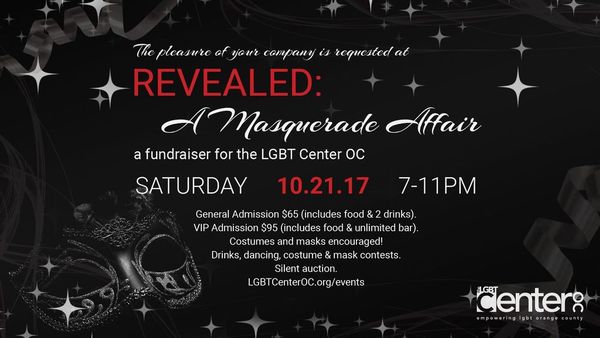 REVEALED: A MASQUERADE AFFAIR
The LGBT Center Orange County is having their annual fall fundraising fete, REVEALED: A Masquerade Affair on Saturday, October 21, inside the LGBT Center on 4th at 305 East 4th Street, #200 in Downtown Santa Ana. Come mix and mingle with fellow Center supporters, along side some spooky characters (organizers indicate they've hired professional ghouls—we're not sure what that means—maybe one should wear an extra layer of bite protection under one's costume?) as you shop the silent auction or gaze into your future at the fortune teller's table. Costumes are highly encouraged and there's a contest, so you will be judged! It's a fun-filled evening sure to be memorable, so make sure to get your tickets today! Admission price includes food, drinks, costume contest, silent auction and dancing.
For tickets and more information, call 714.953.5428 or go to lgbtcenteroc.org.
---
"These boots are made for walking…." Coming up are two opportunities for Los Angeles County residents to don walking shoes and raise funds for local LGBT organizations:
AIDS WALK LOS ANGELES
Now in its 31st year, AIDS Walk Los Angeles takes place on Sunday, October 15 and draws hundreds of thousands of supporters to walk and even more to donate, raising more than $82 million to combat HIV and AIDS. Beginning and ending in Grand Park adjacent to the steps of L.A. City Hall, funds raised go to sustaining APLA Health's prevention, care, and advocacy programs for the thousands of men, women and families affected by the disease in Los Angeles County. Monies that also go to benefit more than 20 other participating HIV/AIDS service organizations involved through the Community Coalition Initiative.
For more information, to register or to donate, go to la.aidswalk.net.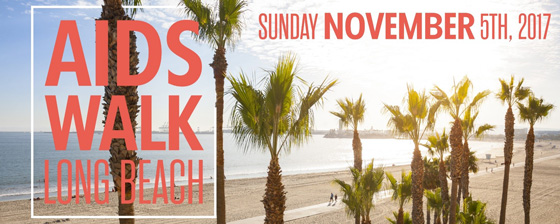 AIDS WALK LONG BEACH
You've done one, you might as well suit up and do it again for another great cause! AIDS Walk Long Beach takes place on Sunday, November 5 and is sponsored by the LGBTQ Center Long Beach. The walk/run kicks off at 8 a.m. at Bixby Park, finishing at the beautiful Long Beach Museum of Art. All proceeds from AIDS Walk Long Beach benefit Long Beach organizations serving members within our local community. Funds raised support critical prevention services such as free condoms, HIV and STI testing, food pantry support, case management, PrEP and PEP counseling, medication support, and social and support groups in multiple languages.
For more information, to register or donate to another participant, go to centerlb.org/aidswalklb.
---
MODELS OF PRIDE 25
Together We Rise is the theme for the Models of Pride Conference, Sunday, October 29 at the University of Southern California's (USC) Alumni Park. LifeWorks, a program of the Los Angeles LGBT Center, offers youth development and mentoring programs with one on one, peer and group mentoring opportunities for lesbian, gay, bisexual, transgender, queer and questioning youth age 24 and under. The goal of the program and conference, is to offer LGBTQ youth opportunities to realize their goals and dreams in a safe space, with positive and affirming role models through workshops and activities that are fun and educational. The conference includes an Opening Session, three workshop sessions with 100+ workshops to choose from, lunch, a resource fair, a college fair, a career fair, dinner, an entertainment hour, and a dance…All for free! Taking place at the same time also will be the Parent and Professionals Institute (PPI), a mini-conference within Models of Pride, offering programming for parents of LGBTQ youth as well as professionals who work with LGBTQ youth.
For a full schedule of events and workshops, for general information or to register as a participant, go to modelsofpride.org.
---
CMG SHORT FILM FESTIVAL
Celebrate LGBTQ short form content creators on Saturday and Sunday, October 7 and 8 at the CMG Short Film Festival, now in its sixth year inside West Hollywood City Council Chambers at 625 N. San Vicente Boulevard. The festival offers four LGBTQ short films programs representing the best of our community's diverse cinematic offerings: Saturday, October 7 offers Program One, titled Courage in Adversity, focusing on dealing with life's challenges and Program Two, called That Whole Dating Thing offers an exciting array of insights on modern dating. Sunday, October 8 gives viewers Program Three, called Keeping It (Sur)Real, with films both rooted in reality and others set in bizarre, unusual worlds. Program Four, that same day is titled Young…And Young Again, offers perspectives on LGBTQ youth and older generations. Program Five, titled Atmospherics, will be exhibited during Sunday's closing night event inside West Hollywood's Bar10. Visually striking films selected exclusively for closing night and some returns from the earlier programs will be offered. All proceeds benefit AIDS Walk Los Angeles and are presented with the support of the City of West Hollywood through WeHo Arts.
For tickets and more, go to cmgfilmfest.net.
.
Category: Long Beach, Los Angeles, Orange County