by jewels –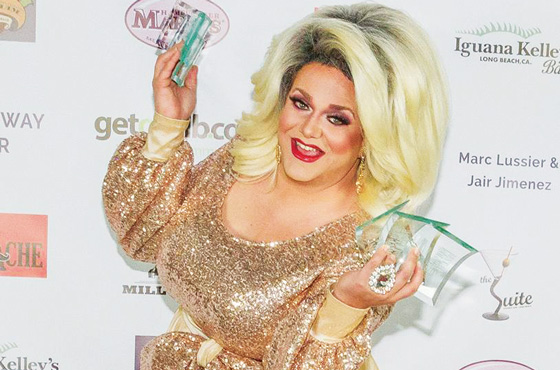 Happy September my beautiful gems!
Fresh off a fabulous End of Summer Booze Cruise on the Long Beach Harbor, I am painfully aware that the summer season is coming to an end. Thankfully here in Southern California, the fun continues in high fashion and the heat gets cranked up…Simply to remind us of the scorching oven that is our high desert climate.
One can never have enough of it, I plan to join friends for a Mexican Riviera adventure and indulge in all the beaches (and margaritas) that are there to offer. Possibly adding in a few pool days with my ladies and to round it all out, a lovely, cooling breeze.
I hope that you'll be joining me on Wednesday nights at Hamburger Mary's Long Beach, as we change things up for the Fall season. The weekly hit show now features an 8 p.m. dinner seating and 9 p.m. drag show. Enjoy one of the hottest shows around and still make it to work the following day! Make sure to call 562.436.7900 for reservations and of course, if you can stay for the Wild Weds party after the show, you'll see gorgeous go-gos and enjoy crazy drink specials all night.
This month we have a superstar lineup including RuPaul's Drag Race divas: Raven, James Mansfield, Darienne Lake, Mrs. Kasha Davis, Naysha Lopez and many others. Follow me on Facebook for the full lineup each week at facebook.com/jewelslongbeach.
Back in beautiful Long Beach, tickets are already on sale for QFilms Long Beach the area's longest-running film festival! Coming to town Thursday, September 7 through Sunday, September 10. This year's offerings appear to be one of the most exciting lineups to date. Make sure to visit their site to choose your favorites and get tickets before they sell out. The Long Beach QFilm Festival annually presents narrative features, documentaries and short films that embody the rich diversity and experiences of LGBTQ communities.
All screenings will take place at Art Theatre Long Beach, next door to the Long Beach LGBTQ Center at 2025 East 4th Street. Organizers have announced they will be host to several West Coast, Southern California and area premieres, as well some of the most acclaimed features on the 2017-2018 film festival circuit. Dozens of filmmakers and cast members of the films to be shown will be present for audience discussions after each screening as well, so you can gain unique insights into some of these magnificent offerings.
Tickets can be purchased in advance online or in-person at the Center during the weekend of the festival. Multi-film passes are also available for purchase and for you film buffs, that would definitely be a wise choice. For more information on the lineup including schedules and trailers go to qfilmslongbeach.com.
Geeks Who Drink Pub Quiz is moving their popular pub quiz night to Mondays starting September 11. You can now show your knowledge of all things "Geekdom" every Monday night with a 7 p.m. "Trivia" event at Hamburger Mary's Long Beach. Get your team of friends together and visit one of these awesome weekly trivia events to win big and test your mental prowess, as you enjoy wonderful food and fabulous drink specials. After a rousing game of Trivia, stick around to enjoy Margarita Mary's Drag Show at 9 p.m. Join them as they celebrate five-years of fabulosity…You don't want to miss these Latin divas.
Mr. Long Beach Leather 2017 is coming to town again on Saturday, September 16, for a sure-to-be-wild evening of Leather goodness, held at the Eagle 562 in North Long Beach. This year's event promises to be one of the biggest installments of this leather tradition seen in these parts. Find out who wins, check out the hunks and participate in the debauchery that is, Mr. Long Beach Leather. Sunday, September 17 you're also invited to a special Victory Leather Brunch at the Paradise on Broadway scheduled to begin at 11 a.m. For more information on the entire weekend of fun events, go to mrlbl.com.
I can hardly believe that two years have passed already at SoCal's newest Hamburger Mary's in Ontario at 3550 East Porsche Way! They are gearing up for amazing anniversary celebrations and the awesome owners, Neka and Diana, as well as their gorgeous venue and wonderful staff, have excelled and the success has been off the charts!
The anniversary celebration will be held on Saturday, September 23. The awesome Mariah Lynn from Love & Hip Hop New York will be the special celebrity guest performing her hit single, "Once Upon A Time " and the evening will be hosted by Morgan McMichaels from RuPaul's Drag Race, Season 2. For more information or to make reservations, go to hamburgermarys.com/ontario-cal.
XOXO Jewels
.
Category: Long Beach