by tony reverditto –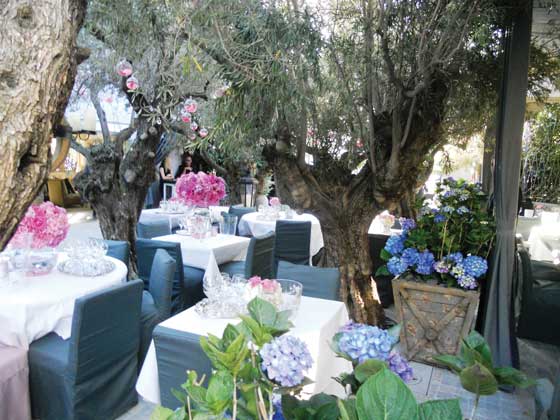 During the drive to PUMP, I anticipated it would be yet another touch of class designed by Ken Todd and Lisa Vanderpump, gently sprinkled onto a long neglected corner in West Hollywood. I was right. These two entrepreneurs are the real deal; genuine, personable and I couldn't be more impressed with their latest endeavor. From the moment of arrival, my impression of the setting was romantic, sexy and whimsical. It felt like the restaurant had been there for many years, yet it was just over a month old. 
PUMP opened at 6 p.m. and my dining companion and I were seated near the entrance, so we enjoyed watching the guests arrive and fill the outside dining area. We were immediately greeted by our handsome server, Derek Allen Watson, an actor who recently moved from New York in order to pursue a career in Hollywood.
That said, he took our cocktail order. My dining companion went for the Summerland Chardonnay and I ordered from the menu's clever list of "Pumptails," choosing the Pumpagranite Margarita, consisting of Tapatio Blanco tequila, orange liqueur, tres agaves organic, pomegranate liqueur and fresh lime, which was luscious.
Our appetizers arrived and like the restaurant, had a sexy, luscious vibe; Ahi Tuna Tartare, tossed in a ginger-chive dressing, with heirloom tomatoes, sesame oil, red chili flakes and layered with a mango, avocado and pomegranate pico, was a literal flavor explosion.
Next up, was Papaya, Shrimp & Crab; a fresh papaya half filled with decadent shrimp and crab salad, tossed with chives and heirloom tomatoes in a light aioli, dusted with Spanish paprika and toasted pistachios—eating it was a "sexy little dance."
The menu had a fabulous array of salads, but we wanted to cleanse our palate with PUMP's White Anchovy Caesar Salad, so fresh and tasty. I went on to order the Big Pinky, another signature cocktail with Vanderpump Vodka, a lime and mint muddle, with cranberry juice and club soda. The title is taken from Lisa's nickname, though not the "big" part; she is quite petite in person.
Chef Penny Davidi, a USFOODS culinary specialist has collaborated beautifully with Lisa on the menu. As we selected our entrées, I appreciated the thoughtful choices available, not overly complicated by too many options.
My companion ordered the Lobster and Asparagus Fiori; flower-shaped pasta, tossed in spicy white wine sauce with asparagus, garlic, red onion and fresh radicchio. I sampled the dish and enjoyed its originality, tied together in a very pleasing way.
I ordered the Filet Mignon Tagliata; seared and sliced filet, with crispy leeks, a wasabi cauliflower mash and braised red cabbage, a wickedly divine combination.
As we were finishing up, Ken and Lisa arrived, stopping to visit various tables, then graciously came over to see us. They truly are lovely people whose success did not come by luck, but by focused hard work and open hearts.
Lisa is as staggeringly gorgeous in person as she is on television and Ken is a true gentleman. Even their dog, Giggy, shared a little love too.
We finished the evening by indulging in an immoral piece of cheesecake that was right up there with the best that I have had. We wanted to stay all night and hang out in the secret garden, which is rapidly becoming part of "the scene," but I knew that another couple would quickly occupy our exceptional table.
PUMP Restaurant and Lounge is located at 8948 Santa Monica Boulevard in West Hollywood. For more information or to make reservations call 310.657.7867.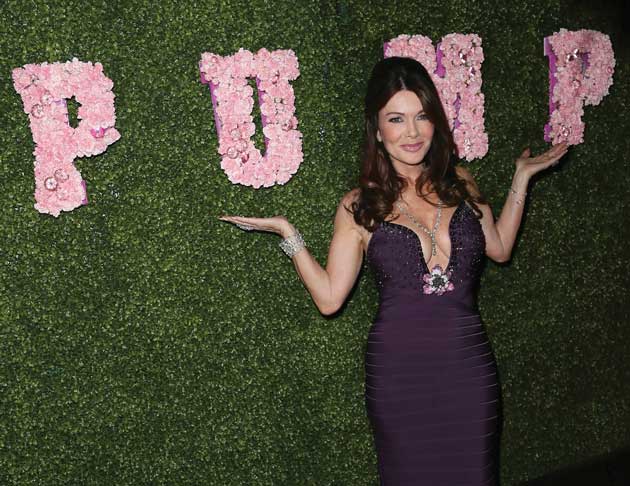 A RAGE MONTHLY MOMENT WITH LISA VANDERPUMP
Lisa Vanderpump has skyrocketed to fame since becoming the most loved "Real Housewife" of all time. She had an unusual childhood spent attending a drama school full time from the age of nine. She grew up in front of the camera in films and television series over the years. At a young age, she married entrepreneur, Ken Todd and they have two children, Pandora and Max. The family has made a splash in the culinary world for decades and PUMP is their latest labor of love . . .
Lisa, before we talk about PUMP, how have you adjusted to being perceived as everything from a villainess to a saint on Real Housewives of Beverly Hills? 
Bravo may not always show your best suit, but they will certainly show your worst. It doesn't matter what storyline that Bravo puts out or what the ladies say about me. The audience has sort of invested in and supported me and really that is what got me through it after five episodes of bashing me, it was horrible to watch. Maybe it's because I have done 120 episodes and people feel they know me pretty well. They actually do, after seeing me in so many situations; my daughter's wedding, my husband's surgery, many, many situations. 
A shout out to your other restaurants, Villa Blanca and Sur, I have been to both and enjoyed myself so much. How do you divide your time between the three?
Well, we have had 26 overall, pubs restaurants and clubs. Right now, I have so many things going and you know, you've got to keep the ball rolling and I have put a lot of hard work into it the last few years to actually keep the restaurants going. It certainly doesn't help when you are getting sued for inconsequential things. Anyway, I have been doing Vanderpump Rules as well. Really, I divide my time equally and do the best I can.
What inspired you to create PUMP? 
PUMP is my latest labor of love and when I walked into the building, I was inspired by what the space needed and what I could give to this particular corner that it didn't have. Getting permission to change a really ugly parking lot with a chain link fence, the homeless (I am a big advocate for the homeless and have fed them every week for the last six years because I sympathize with their situations) and the drug problems were not easy. It was shocking to see the shape that space was in, considering it was in an affluent area. 
The first thing I did was to put in a perimeter of olive trees to make it into a garden. I went to the city to add an outside bar and that was not an easy accomplishment when you've got building, safety and health departments to deal with. I had endless battles, but thankfully at the end of the day, they had confidence in me that I would make it the sexiest corner in West Hollywood. 
I also wanted antiques, the old antique fountain and hundred year old trees, so when you walk in, you feel like it is an established garden. 
What have you come to love most about America?
The people. The unbelievable support that I've had. It has just been phenomenal, it's been said "people don't get your humor", but America does, yet the RHOBH ladies don't because they don't want to. Fans see that I am self-deprecating, I take the mickey out of myself and have a laugh. Even when I started the Real Housewives everything was against me, I had the little dog who had to be dressed up because he had alopecia, I had the English accent, I wore pink, on and on.
America understands that I have worked my butt off, I have tried to be the best wife and mother I could be. I am truly a philanthropist and have an altruistic nature by trying to give back to the community. I give back with support for GLAAD, the LGBT community, Children with Alopecia and the American Humane Association. Keep the Memory Alive is an organization that I am very passionate about, I've had two people in my family that really deteriorated which brought on sad situations with degenerative brain diseases and we have to finance and explore that because it is all of our futures—Alzheimer's and Dementia are ruining so many lives.
I know that firsthand. That was quite a tribute to the U.S. Now sum up in one sentence what you miss most about England?
The pageantry, some of my family, the architecture and the English countryside!
How did you determine what the cuisine would be when you designed the menu with your Executive Chef Penny Davidi? 
I am very focused and I knew exactly what I wanted. I said, "This is what I want and I want your interpretation" and then she added to it with a few of her own recipes. She understood about the healthy and fresh, farm-to-table concept I was envisioning and we created incredible food. 
I totally agree, I loved it from beginning to end. Now, tell us about the PUMP boys?
Hunky, sexy, gorgeous, straight, gay, a bit of everything that is a feast for the eyes.
Were you in on the hiring?
(Laughs) I hired everybody.
If I were Bravo, I would be all over another Lisa/Ken spin-off about PUMP, anything in the works?
I don't have the energy, although, we are in negotiations for another season of Housewives.
Describe Ken in one word.
 Ultimate.
Describe Giggy in one word.
Sexy-monster!
Tell us about LVP Sangria, I saw it on the menu at PUMP. 
LVP Sangria takes up a huge amount of time; it's my daughter Pandora and son-in-law Jason's new business and they have done very well with it. The launch has been a very exciting time for us; it's in Gelson's and various stores and is going to be distributed all over the country.
In life, what are you most passionate about? 
My immediate family. 
Category: Los Angeles, Style