An Interview With The Director of THE PRIDE, Glenn Paris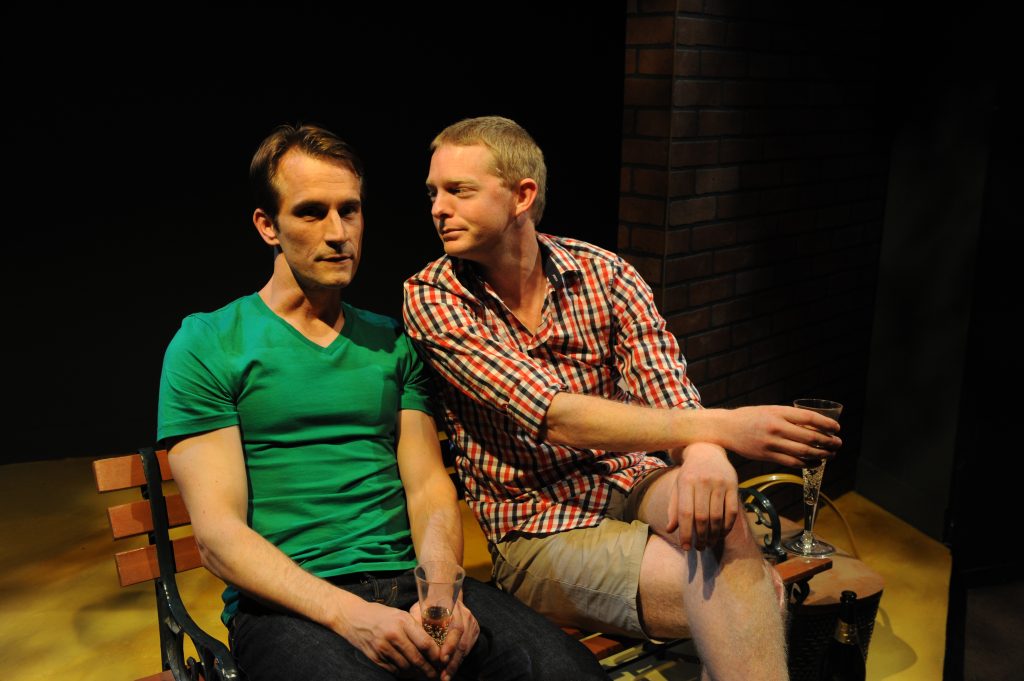 Would you rather be a man in denial about his sexuality in 1958, who is in a heterosexual marriage or a frustrated openly gay man who wants monogamy, yet has a philandering partner in 2008? If your answer was definitely the latter, that still doesn't mean that any relationship is a bed of roses. The scenarios presented in Alexi Kaye Campbell's The Pride, are extremely innovative and offer a parallel presentation of what it means to be a homosexual in two very different time periods.
Utilizing the same three actors in each of the two years presented, and with the same names… but in totally different generations and situations is thought-provoking and a sort of coming-to-terms with just how far having pride in who you are has really come. 2011 Craig Noel-winning director for Angels in America Part One and Two, Glenn Paris took the time to unravel the meaning, emotions and power of The Pride opening at Diversionary Theatre on Thursday, April 5 and running through Sunday, May 6.
Was The Pride a play you had previously seen or was this a case of reading the script and wanting to direct it?
It was a case of reading the script and wanting to direct it. Yes. I had not seen any of the major productions in London or New York.
It's quite exciting that The Pride is premiering in San Diego, as well.
It sure is!
As the story of the play takes place in two very different eras of gay sexuality, do you feel that is a common thread or theme that is at the core of The Pride?
Yes, absolutely. One of the characters, Oliver, asserts in the piece, "Pride in yourself is a very important thing." Not only pride in yourself, but pride in how you feel. As much as we move toward that position in our sensibility, in numbers and in the community, it becomes political. Does that make sense?
Yes, very much so.
Campbell [Alexi Kaye] is looking at sexual repression in 1958. This was nine years out from putting in some protection for gays. Then, how far we've come… despite the fact that conflicts as individuals in relationships continue.
Having three actors in dual roles, as characters in 1958 and 2008, as a director, is it more challenging to portray them in the rigid 1950s or in the modern time?
That's a good question. (Laughter) The three actors cast in the roles of Oliver, Philip and Sylvia; I've worked with on a number of occasions. I have a short-hand with Brian Mackey, Francis Gercke and Jessica John and feel really confident in their abilities.
I think it is very fun for them, to portray characters that are moving between the two eras. I don't think that one is more of a particular challenge than the other.
The style of the 1958 scenes has a flavor of a writer like Terrance Rattigan, who wrote Separate Tables. Rattigan was writing very effectively and was much lauded for his abilities to portray sexual repression during that period. The actors fit well in to both time periods.
Thinking about it from an actor's perspective… it's kind of schizophrenic, for an actor to have to jump.
Yes, I think that they embrace it. As a matter of fact, I had the company read Design by Living by Noel Coward. It's a remarkable piece of theatre, about a trio of two men and a woman. They're all in love with one other. That's the way, they want to go forward in their relationship and society looks on it in disdain.
Is the script by Alexi Kaye Campbell, all pure drama? Does The Pride allow sarcastic wit or humor in to the relationships of the characters?
It absolutely does. The 2008 character of Oliver is especially struggling with his relationship with Philip. Oliver has a tendency toward anonymous and casual sex. Philip doesn't like that… he's not comfortable with that. So in a humorous way, Oliver is very self-deprecating and makes fun of himself in scenes. So, there is sarcasm and acerbic wit.
What do you hope the audience takes away with them after a performance of The Pride?
I hope that the audience is provoked by the issues the play explores and it builds confidence in us as a "community."There is this idea that the playwright asserts, that it's important to be proud of ourselves and in numbers, that pride becomes political. You only have to look at Proposition 8 to understand that.
The Pride is at the Diversionary Theatre, 4545 Park Boulevard.
For Tickets and information call 619.220.0031 or go to diversionary.org.
~ Written for THE RAGE MONTHLY by Bill Biss
Category: San Diego