by bill biss
I am one of the many people who viewed Levi Kreis's video for "Nothing at All" on MTV Music Online.
The handsome singer/actor made an impression because of his soulful, southern and spirited voice and intriguing good looks.
Levi has just released his third CD titled Where I Belong and while he was writing the songs for his latest collection, he also made the trek to Broadway with the musical Million Dollar Quartet in which he creates "great balls of fire" with his portrayal, singing and piano playing of Jerry Lee Lewis.
The Rage Monthly caught him in between curtain calls to find out more about this very talented and very out performer.
The Rage Monthly: Really enjoying Where I Belong. Just guessing but I gather you are a big Stevie Wonder fan…
Levi Kreis: Yes, I've always been a big Stevie Wonder fan, and props to you for picking that up in my music. It's amazing how varied people's references can be when they listen to music.
Rage: Your vocal style and quality of voice seem reminiscent of Wonder's voice at times, that soulful quality mixed with a robust touch of Broadway showmanship. How would you describe your singing to someone who had never heard you?
LK: Good question. I suppose I only know what I've heard the most from people, and most of my life I've been told that people thought I was black when they hear my voice before they see me…probably because of the heavy gospel roots I have. I would suffice to say "passionate."
I definitely learned my vocal and piano musicianship from the church where they teach you to "sing and play with conviction!"
Rage: Please explain your reasoning behind the CD's title Where I Belong.
LK: After touring for the better part of three years, I began to have a much clearer idea what works for me stylistically and what doesn't so much. I'm proud of my sophomore release, The Gospel According To Levi, for it's bold message, yet from a musical standpoint it didn't draw from my strongest influences growing up.
I realized that the truest expression of me begins with gospel and southern roots, and a piano in front of me. That's how we produced this CD, and that's how we got the title.
Rage: Tell me about landing your role in Million Dollar Quartet and what the experience has been like taking the show to Broadway.
LK: You know, playing the role of Jerry Lee Lewis actually informed the creative process of making Where I Belong. Delving deep into my southern roots to build the character seemed to have bled over into my songwriting at the time.
It's fun to now have a role on Broadway that I helped develop since 2004 that draws from my roots, and at the same time promote an album that accomplishes the same thing.
I never auditioned for this role actually. I was around during the first reading when the producers grabbed me to help out with this new script. I did the table reading, they discovered that I grew up playing Jerry Lee's music, that I was a strong southern actor and just kept me. From then on, I helped to develop the script 'til finally we presented it to the world via Chicago in 2008. It's been non-stop madness since then, and a lot of surprises along the way.
I mean, who would have thought a little southern, indie artist like me would suddenly have a spot on Broadway. I'm humbled by it.
Rage: What kind of energy do you bring to your role as Jerry Lee Lewis?
LK: The fun thing about this piece is that I get to concentrate on the first 20 years of Lewis' life. There is an assuredness, no doubt, but an innocence that is so charming. I also have found my own relatability to the internal conflict that Lewis expresses between his love for God and "the devil's music."
I've always drawn a little from my own internal struggle, as a boy who had a great passion for God yet believed I was an abomination to him at the same time. More than that though, it's lovely to be the comic relief of a show. We all have a lot of fun on stage.
Rage: Do you have any favorite Broadway shows that you would like to be in? I would imagine that this is something you would like to pursue more after Million Dollar Quartet ends its run.
LK: I've been so busy getting this show up while promoting my current release while writing the new release, that I have seen no shows. I am excited to explore the community more the first chance I get.
Rage: On your very first CD, you came out in the liner notes…what have been the positive after effects of doing that for you personally and professionally?
LK: I think it was the first of many moves toward me dispelling what I call the illusion of limitation. To think that opportunities become limited because of anything such as sexuality, age, race, etc, is to not have faith in the absolute support the universe has in our creative expression.
It's like telling God that He is incapable! It's like telling me that there is something wrong with me. I can't subscribe to any of this anymore. I believe nature even teaches us that all life supports itself, and that very support is ours to the degree we believe it to be. I believe that God is all-supportive, all-good and there is no opposition to that.
To live in this space, own whom you are and step into life with this level of authority and faith is how I hoped to live ever since I released that first CD and came out.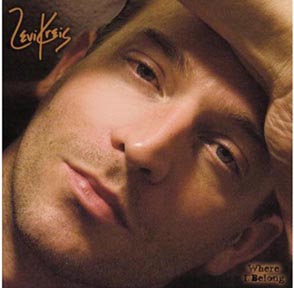 Rage: In several of the songs on your most recent CD…there is a strong gospel influence, please share the importance of faith in your life and how this ties in to your songwriting.
LK: As a product of the church, I think I'm cursed (or blessed) to feel a sense of responsibility with my art, or maybe it's just that I feel like I'm not being completely authentic if I'm not sharing the truths that are the foundation of my day to day.
I've always been a truth seeker, and a meaning-maker.
I remember on September 12th, 1988 when I made a pact with God that I would spend three hours a day in prayer and The Bible until He got rid of this "thorn in my side" (homosexual tendencies). I can count on one hand the days I missed up until August of 1992. All I ever wanted to know was my truth.
Now, I don't believe in an authoritarian church, a judging God, original sin, and I certainly don't believe that my sexuality is anything other than God's unique expression of love through me.
But the determination to continue that defining process remains even now. I still believe in Jesus, not as a savior from my sins, but as a way-show-er. I believe that Jesus was the example, not the exception.
We are all sons of God and it is my commitment to not only provide myself with the daily opportunity to actualize that in my life, but to perhaps provide something that also inspires a listener to love "the God in them" as well. These are just my own thoughts; I celebrate everyone's path to the divine.
I heard something cool last week. We as a human race are so tempted to worship the "map" to God over the experience of God. I would say to anyone, choose whatever "map" helps you connect; it is God (Love) emanating through you that is the bottom line. As Christ said, "The greatest of these is Love." Pretty simple if you ask me, and it's a gift to be that simple.
Rage: Congratulations on hitting the number one spot of MTV Music Online…with "Where I Belong." For an independent musical artist, this is quite a feat…what was your initial reaction in doing this and if you can explain the back-story on writing that song?
LK: I have another independent, out artist to thank for this. Nhojj is a wonderful artist who was the first independent out artist to claim the #1 spot on MTVMusic's Top 100 Most Viewed videos. I think it's a testament to the loyal fan base I've cultivated, and have no one to thank but fans and supporters of my music.
No suits, no label, no big budget, just folks like us sitting at their computer giving five minutes of their day to spin a video and help it break through the machine and into the top spot.
It was truly amazing to see that much support at work. As far as the back-story to "Nothing At All." About three years ago I was watching a good friend not really treat his boyfriend at the time with the clarity I wish he would have. I related cause he was also MY ex.
I was moved by the situation and wrote a song from "the kid" to my friend, trying to be a voice for him, asking myself, "What would this kid say if he could be this vulnerable?" What came out was a song that I think we all can relate to at one time or another. I know I relate to it on numerous occasions in my life.
Rage: Tell me a bit about your background. Where did you grow up, what does your family think about your success and how did you initially start playing the piano? …which you do so well.
LK: Grew up in Oliver Springs, TN, graduating class of five people, and valedictorian with a "C" average. I came home from Kindergarten graduation at six-years-old after hearing "Pomp & Circumstance," went to the piano and started playing it with both hands while I had my brother work the pedals for me. (My legs were too short to reach them.)
I have an unusual ear and it was very hard to learn how to read, but eventually learned well enough to receive a full scholarship for classical at Vanderbilt University under a pre-college program. My family was always very supportive, though my mother had hopes I would be a Christian singer.
In the end they are very happy for my success. They were just here in N.Y.C. to see Million Dollar Quartet. I swear they could watch that show eight times a week.
Rage: I'm partial to "Ain't Nobody" right now off of your latest…what is the next single you have planned for release and where did your inspiration come from to write "Ain't Nobody?"
LK: Ha. I wrote it for a girlfriend of mine who liked to listen to music before she would audition for acting roles. I thought this message would really remind her of the unique gift she has to offer the world.
Her name is Monique Coleman; you may know her from High School Musical. The next single…hmmm, good question. Perhaps I'll take this question as a suggestion.
Category: General