By David Vera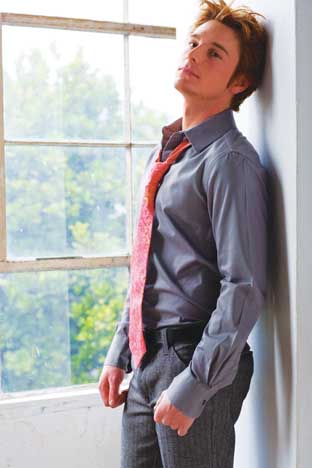 Reinvention seems to be the key to success in any field. But in this world of relentless innovation, it's rare that you'll see an idea that has never before been tried. But—as Sean Lockhart is so adept as showing the world—those who execute it with style set themselves apart from the rest.
Known worldwide by his persona, Brent Corrigan, Sean has been branching out from the world of adult films and subsequently shedding the restrictive "twink" image for a more refined stature.
His role as Stan the Merman in 2008's Another Gay Sequel: Gays Gone Wild has triggered a mass "hey, I know that face" response and propelled him onto a broader spectrum of moviemaking. But that was just the beginning. It's safe to say Sean has made a successful break into mainstream media.
"Thank you for the compliment!" said Sean. "Though I am nowhere near where I eventually want to be, a little bit more happens each day. In a perfect world, I'd be moving outside of working in front of the camera on an adult set by the end of 2010. However, everything must fall into line for me to achieve this.
As a director and producer, the things I have always wanted to do with the adult industry are no longer the possibility they once were. With the recession, there is less and less that a smart adult producer can do. I always wanted to make art house-oriented scenes since I began fantasizing about how I would do it all differently.
What John Cameron Mitchell did with Shortbus is similar to my original model. I've always wanted to film lovers and portray them affectionately, romantically. Although truthfully, the older I get the harder it is for me to find the mental stimulation I need while working on an adult set as a model."
One of Sean's wishes is to direct mainstream projects as well as star in them.
"All I've ever wanted to do was tell stories in some way or another," admitted Sean. "The dealer called life has presented me with one very interested suit of cards—tools I am lucky to have and intend to implement as a storyteller. That is primarily what my work as an actor is about (non-adult of course). I want to gain experience about the process of filmmaking while working in front of the camera. I want to meet people and make friends with talented, fascinating individuals. Film school is great but nothing compares to real life experience."
Most of the projects Sean has taken on have been comedy-oriented, but there are other types of roles that he would like to explore.
"It's funny because, while I don't consider myself devoid of humor, I am certainly a much more serious person than I let most people believe. If I could take on any role, I'd want to play an odd-ball type. I'd love to slip into someone, or something, where people don't even recognize me. I do love playing the villain, but I think it's way too easy for nice people who are decent actors to polarize. Playing crazy would be fun. And believe it or not, I probably have enough "crazy" in my life to pull from in order to materialize something fascinating on-screen."
His passion for creating is evident. But when he wants to lose himself watching a story, Sean's tastes are varied.
"I really do love all kinds of films," confessed Sean. "Naturally, I gravitate more strongly toward some than others. When it comes to thrillers, they must have a particular level of psychological stimulation. Horror films are practically lost on me unless they are quirky with a hint of humor. I like to laugh a little in between a good scream. Love stories reach me easily as long as they are well written.
'You had me at hello' is too easy, too obviously eager. A good movie satisfies the voyeur without hinging so heavily on that fairy tale ending. However, for me it's dramas and dramedies that seem to speak to the interested artist in me. There's just something irresistible about a film that affectively intertwines serious themes with characters that are laughable, admirable and even loathsome!"
In the 2010 film, Judas Kiss, we can see Sean in the lead role.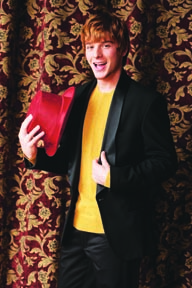 "Well, one of the lead roles, at least! I couldn't be more honored to get a chance to work beyond my adult roots.
Judas Kiss
is a film that a friend of mine, J.T. Tepnapa, is directing. We did a short film together that was wildly successful at Outfest and has gone on tour festivals all over the world. I've been tacked on to Judas Kiss for almost two years, and with the recession it has been extremely difficult for any indie filmmakers to obtain adequate funding in a timely manner.
I just got word that we finally go to production in August. It's a film about a man who is faced with the younger version of himself, as well as the older version of who he will become if he doesn't make changes in his life. It's about perspective—taking responsibility while recognizing where you can better yourself. It's a coming-of-age film so many in the gay community will relate."
Sure he can act, but what does he give back? Anyone who has read his blogs will know the answer. It's the 21st century and the progressive concepts of sex-positivity resounds loudly in our immediate circles, but the whole of society still has quite a way to go before every hot-blooded human can admit without the risk of blushing that we're attracted by the lure of…s-e-x. (Gasp!)
If only we took it off the bottom shelf, out of the brown paper bag and assigned it the dignity it deserves. Sean has been doing just that for years on his online writings—as well as proving that there certainly are brains behind this attractive face.
"I was fairly fortunate to grow up in a good public school district outside of Seattle, Washington. I've maintained a firm grasp on my ability by writing almost regularly on a blog since I was 19. I know I have a lot to learn and I very much invite new challenges and opportunities to absorb more. Do I want to be a writer by profession? Not necessarily, but I do want to publish a book or two. Ultimately, I want to take my affinity for the written word and apply it to writing screenplays."
Clearly it took effort to get here—as the adult film industry and its models are still the unfortunate targets of many unfair criticisms. Nevertheless this San Diegan has shown us that no matter how tumultuous one's past has been, much good can still be achieved. On his new website, Sean provides the safe haven for adult performers that he never had upon starting in the business. Humanizing his models and disassociating shame from sex, his website is a salute to sexuality. With so much openness, one has to wonder whether there's any topic that he just won't write about.
"It's no secret that I'm very…shall I say…generous with my private parts," quipped Sean. "I'm not just referring to my body either. Quite honestly, the one thing I do like to keep private is my personal love life. It's not just a matter of preferred privacy. It's a matter of protection. Case in point: I was at an award show last year in San Francisco. I swept, bringing home three awards—not only for performances but for my work as a director.
Another producer/porn star was pissed about it for his own singular reasons. He stormed the stage to protest me, the award ceremony, those running it and all of the studios involved. Later in the evening, he put himself between my boyfriend and I as we attempted to exit a club. Then he proceeded to create a scene and lied to security about his safety being threatened. The next morning we were woken up in our hotel room. The police wanted to question my boyfriend. They humiliated us; made us wait in our underwear in the hallway of a well-to-do hotel.
When it was deduced this jealous producer/fading porn star had lied (and we had witnesses to corroborate our version of the story while he did not), the case was dropped and no charges were filed. The point is, not only was I targeted in this charade, but my significant other was as well. That aside, ultimately, it's just nice having some things, or someone to myself. Personal relationships are complicated and difficult enough without having the whole community looking for ways to conquer and divide the two of you."
On the topic of former difficulties, Sean is in the process of writing a book about them—sure to be a fascinating and universally pertinent account of his trials and subsequent growth.
"I am working on a book detailing my experiences since moving to San Diego at 16 years old. It will outline my life as an adult model during my junior year in high school, starting my first adult company at 19, a civil suit and the onslaught of a producer hell-bent on leveling not only my reputation but my emotional foundation. Of course, people tend to be most curious about things like the murder investigation in which I was a star witness."
The book is due to hit the shelves in late spring of this year. Not only does he keep his fans updated on his projects, Sean also chronicles his take on social issues like the latest advances in the Prop. 8 battle.
"I believe there is a ridiculous divide within the community that, unfortunately, has severely limited our potential. We spend our whole lives, many of us, ostracized and humiliated. Then when we step into the very world we have all worked to build together—in this very community—we cut each other down and rip each other to shreds the very same way others did to us.
The trouble is, the fight for marriage equality is a fleeting notion in the minds of too many of us…There are too many organizations pulling their own strings and playing to their own little agendas; hiding under this guise that they are working for our rights. We let that slide.
When Proposition 8 passed, we all were pissed. We turned out in Hillcrest 28,000 strong and marched miles to tell the world we were here. But on that very same day, those organizers were insisting we remove words such as hate from our very own vocabulary. It was an outrage and an example of the ineffectual leadership that the rest of us have allowed to shepherd us through this thing like cattle. The only way we're going to get anywhere is if each and every one of us does our part.
If you can't give money, get out there and lend your person to the movement. At the very least, stay informed with the movement as it develops. Who knows? Just educating yourself might reveal a high purpose for you in the advancement for equal rights."
It is clear that Sean has his community's best interests in mind. It looks as though this adult icon has truly grown into an adult!
"When I decided to take on the entertainment industry—not just model work to pay the bills—I consciously decided to be myself. I knew that a facade or a gimmick would wear thin and become transparent eventually. This isn't to say that I'm always one way or another. Just like any other breathing human being with a soul; I have many facets to me. For instance, when I am just out with a friend or my boyfriend, I'm more observant and reserved.
I am less open to receiving a fan who recognizes me. I'm not looking for stardom. What I want is to be successful—which, like it or not, is a big element to the things I want to accomplish in my life. But these things can only happen if people know me and know where to find me. If we don't welcome the notion that we will only be better and happier if we open ourselves up to learn and grow, then we won't at all. I do hope I have evolved for the better."
Intellect, beauty and ethics? Sorry, boys. This one is happily taken. Nevertheless, we can be assured that he will always be the gracious public figure and talented artist for which we love him. How does his Valentine's Day schedule look this year?
"My boyfriend is going to kill me for being so honest, but he already knows how I feel about Valentine's Day. At the risk of sounding cynical, Valentine's Day as we know it was created by greeting card and candy corporations to give straight women an excuse to obligate the men in their lives to do more for them.
That being said, I'm not against romance! I just prefer not to rush around once a year and adhere to an expensive, obviously misguided tradition that makes more people feel sad and alone than loved and fulfilled. I think it's more romantic and far more special to do something for your lover when the rest of the world at large isn't reminding you that they are doing it too."
Well put. And bravely, I might add. When he's not liberating the adult industry, finding ways to clear the air about LGBT issues, planning his next career move and tweeting us up to speed on all of it, Sean is making appearances—like Hillcrest's own Mardi Gras celebration on February 16.
"Well, appearances sort of wax and wane like that for me. One month I'll be in three cities, and then two months will go by without booking anything. In October I got a chance to finally do Cardiff for The Iris Prize Film Festival, I had two mainstream films in it. Then I was off to London for 5 days of press and pictures to promote a DVD compilation that included a short film I starred in. Australia just sort of came out of nowhere. I've never been there and I am extremely excited!
Originally, I was supposed to do a two-week tour of several Australian cities, but the entertainment booking company that wanted me couldn't get the multitude of clubs all over the country to consent fast enough. Basically, this means I am going out to Sydney for 5 days of press and photos as a precursor for a tour later in the year.
Then I open a club and host an event in Melbourne, the capital. Lastly, I'm taking a few days to myself to just enjoy the festivities of one of the greatest, largest gay events in the world: Sydney Mardi Gras. Honestly, the best part about all of this is that it hinges only on the mainstream side of my career. I won't be dancing even once while I am there. And I won't be expected to stand on any stage just wearing my underwear. Haha!"
With as many cameos as Sean makes, one wonders whether his schedule has any room for free time.
"Honestly, I am terrible at time management. It's almost embarrassing how bad I am at planning my day. I sleep in pretty late, work out fairly late and spend a good portion of my days cooking with my boyfriend. In a perfect world, I would spend more time training on horseback and less time working my muscles out. I want to compete this year in a hunter-jumper competition, which is an equine sport.
I grew up riding horses and training but my parents could never afford to keep me in it, so I didn't progress as much as I would have liked to. Now, I have the resources to ride, learn and compete but there simply aren't enough hours in the day! And then, when I get dragged away to various cities or countries for appearances it puts gaps in my training that hold me back. Maybe someday I will be an Olympic jumper, but for now I'm lucky to just get on the back of a horse.
I ride down in Imperial Beach, which is the only place in San Diego you can take a horse out on the waterfront. It's absolutely beautiful. Other than that, I like art, music and every once in a while I'll frequent the museums in Balboa on Tuesdays. They're free on Tuesdays!"
Perhaps what is even more rare than a stylish reinvention is a prevailing life of accomplishments where overwhelming adversity once stood. We proudly welcome Sean Lockhart (as Brent Corrigan) to our Mardi Gras Festival and wish him all the success he has earned.
Category: General